Welcome at Ski Lodge U Kuby,
ski lodge can be found in Roztoky u Semil in Giant Mountains, Jizera Mountains.
We offer you ski lodge accommodation for 12 people. The accommodation includes free parking,use of a bicycle and ski storage are also available. The lodge is heated with a heat pump, free WiFi, satellite TV, sauna and barbecue.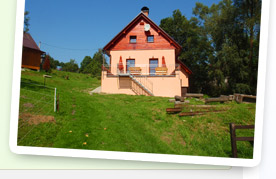 Accommodation terms and a price list
Two or more overnights are required for offering an accommodation. Our guests can accommodate from 3 p.m. until 6 p.m. or after an agreement. By the departure it is necessary to leave a property until 10 a.m. An owner of the lodge is not living there permanently.

Prices are the whole ski lodge.

You can also use a sauna. For using sauna it is necessary to pay 600,- CZK (once – and – for- all). Then will be charged only a power consumption in accordance with real consumption.

We can make an invoice or make just a simple bill to our guests if necessary.

| | |
| --- | --- |
| Prices for 2021 | whole property / per night |
| January | 4 200 CZK |
| February | 4 200 CZK |
| March | 4 200 CZK |
| April | 3 000 CZK |
| May | 3 000 CZK |
| June | 3 000 CZK |
| July | 4 200 CZK |
| August | 4 200 CZK |
| September | 3 200 CZK |
| October | 3 200 CZK |
| November | 3 200 CZK |
| December | 3 200 CZK |
| December - 19.12.-3.1. | 5 200 CZK |