Welcome at Ski Lodge U Kuby,
ski lodge can be found in Roztoky u Semil in Giant Mountains, Jizera Mountains.
We offer you ski lodge accommodation for 12 people. The accommodation includes free parking,use of a bicycle and ski storage are also available. The lodge is heated with a heat pump, free WiFi, satellite TV, sauna and barbecue.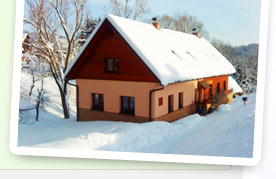 Activities nearby
• hiking, trek
• swimming, diving
• cycling
• golf, tenis, go-karts
• horse riding, fishing

• skiing
• snowboard
• bobsled
• tourism
• indoor swimming pools

Photo gallery
Activities nearby » Photo gallery »
Go on holiday to our
Cottage U Kuby
, which is due to its location an ideal starting point for hiking and trips around. Are you interested in
accommodation in Podkrkonoší
or are you looking for accommodation directly
in Roztoky by Semil?
? Do not hesitate with the reservation -
cottages for rent
will provide you with all the comfort and privacy and at the same time feel like you are at home. We look forward to your visit.